What are the types of fabric blends I can find in a white t-shirt?
Just because a t-shirt has a $120 price tag doesn't mean that it is equivocal in quality. It might sound a bit absurd but really knowing your fabric types and what they feel like are helpful when trying to find the right tee. Here are a few I tend to look out for when I'm shopping…
Modal – a form of rayon, resistant to shrinkage, it can pill so make sure to hand dry this type! Super soft as well.
Pima & Supima – high-quality
cotton, both resistant to pilling, fading and get softer with wear.
Polyester – holds shape well and resistant when it comes to wrinkles.
Rayon – is breathable and very soft. It can imitate the feel of and texture of silk.
Viscose – again breathable but cheap. It's not completely synthetic but its better suited for warm weather.
Now that you have chosen a shirt, care is just as important! If you care for your shirts properly you can improve the longevity of your item.
Invest in an anti-pit staining deodorant – I'm sweaty AF so I need to wear something regardless but I always look for a deodorant that states it will help with the yellow stains. I'm currently using the Biotherm Deo-Pure and it's amazing!
Use a lingerie bag – So I like to toss my more delicate shirts (that can get caught on a bra hook or zipper) in a mesh garment bag. They are protected from rubbing against other types of clothes that you may have in the wash as well.
Invest in a steamer – This mini steamer is literally a life changer! I think ironing can be too abrasive and dry cleaning is too expensive. I usually just hang dry my shirts and use the steamer to get all the wrinkles out before I store them in my closet. It's so inexpensive and great to travel with. You literally add water into it, turn it on and use!
I'm obsessed with these crew neck tees from Everlane, They feel so soft on the skin and look great with just about any outfit"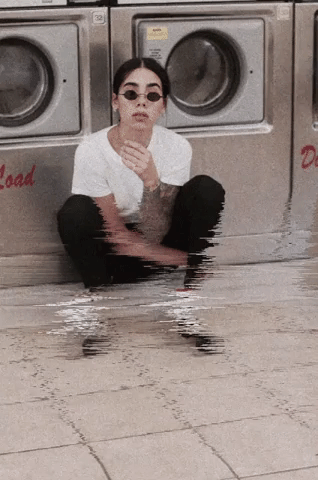 I'm sure you already know to wash whites with whites but once soil gets into the water, it will eventually redeposit back onto the clothes. Keep your shirts nice and white by using a detergent with some type of whitening agent in it. The rule of thumb is to use warm water because hot can cause shrinkage, I like to use hot water. I don't mind if my shirts shrink a bit which I haven't experienced much of but I feel that the hot water really irritates my shirts leaving them squeaky clean.